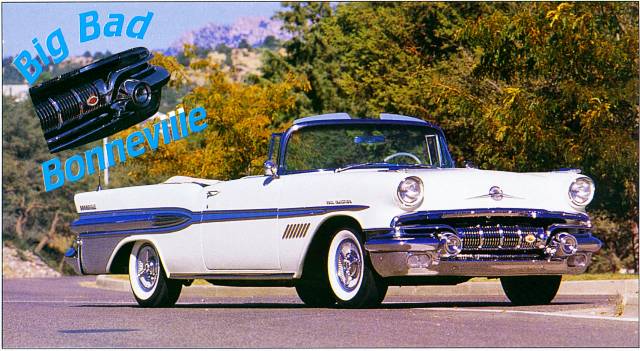 With Rochester fuel injection, the '57 Bonneville
was as strong as it was beautiful.
Photography: Dave Lundy

n 1957, things were happening at Pontiac. The changes had started the previous summer, when Semon E. "Bunkie" Knudsen became Pontiac's new general manager. Soon after that, he hired Pete Estes and John DeLorean, in a move that would mean great things for the company for many years to come.
From the enthusiast's point of view, the most promising improvements were coming in the area of performance, and that would soon mean performance with a capital "P."
Several years of research and development had led to the introduction of the Strato-Streak V8 in 1955. This 287-cubic-inch powerplant was lighter than the company's Straight Eight, and cost less to manufacture than the Oldsmobile 303-cube Rocket V8. The 287's most unusual feature was its unique ball-pivot rocker arms, which replaced the traditional forged arms mounted on a shaft. It was available in 173-, 180- and 200-hp versions, and it powered every 1955 offering from Pontiac.


Top: If you wanted Pontiac's new Bonneville in 1957, you could get it only one way: loaded, with a convertible top and the 300-plus horsepower 347. Total production was 630. Bottom left: Just as he did to the rest of the car, owner Bill Schoenig painstakingly restored this interior to its current immaculate condition.
The Strato-Streak was enlarged and improved for the next two model years, until it measured 347 cubic inches for '57. And then, as if the two "Extra Horsepower" Tri-Power options weren't enough, Pontiac introduced a Rochester fuel injected version, available only in the new top-of-the-line Bonneville.
This injection system was similar to the one on '57 Corvettes, and it offered the same mystique. Simply put, it meant something to have a fuel injected engine in '57, and it really meant something if you were cruising around in a fuel injected Pontiac Bonneville convertible.
Unfortunately, not too many people would get a chance to test drive this fine American machine. Pontiac built just 630 of these babies, ostensibly to be sold only to dealers to gain valuable field testing--and to earn some publicity along the way. With a base price of $5,782, the Bonneville came with virtually every accessory Pontiac manufactured; air conditioning and an externally mounted spare were the only options.
The actual horsepower figure for the 347 fuelie is subject to interpretation. Pontiac never released a specific rating for this engine, but left it at "in excess of 300 hp."
Other published reports had the horsepower ranging from 295 to 310. No matter how much horsepower it put out, it was obviously enough to get the 4,200-pound behemoth moving in a hurry.
The '57 Bonneville featured here belongs to Pontiac collector Bill Schoenig, who owns more than a few valuable pieces of PMD history. Bill bought the Bonnie in fairly rough condition in Los Angeles in 1978, and spent the next two years restoring the car to its former state of splendor.
The Poncho's immaculately detailed condition pays homage to Bill's own talents, because he did virtually all of the resto work himself, including rebuilding the engine and transmission, reviving the interior and applying the gorgeous and flawless Kenya Ivory and Fontaine Blue paint.
Bill has put only about 600 miles on the Bonneville since he finished it. But every time he stomps on the gas, he remembers he's in the car that brought Pontiac to the top of the performance pack!



The mystique of fuel injection was only part of the appeal of Pontiac's 300-plus horsepower 347.